ENWEI MO-520 Mobile Light Tower
Scope: Railway, electricity, public security, oil, metallurgy, petrochemical enterprises at night operations, freight yard loading and unloading, patrol maintenance, accident repair and other high-brightness lighting and other work to provide mobile lighting.
Features:
1. High brightness, wide range of lighting: The use of 4 1000W metal halide lamp, lamppost after 10 meters rise in lighting coverage of up to 120-150 meters. The overall lighting far and near, lighting distance, exposure area.
2. strong capacity, economic and environmental protection: lighthouse configuration of high-quality international well-known brand of generating units, powerful. Damping between the unit and the base design to reduce vibration, make the operation more secure and efficient, energy efficient.
3. Omni-directional, multi-angle projection: the pole can be rotated 360 degrees in the horizontal direction adjustment, 360 degree exposure without dead head can be arbitrarily change the projection angle within the range of 0 degrees to 90 degrees in the vertical direction.
4. User-friendly design, simple operation: control system integration, control switch, control display, indicating instrument all integrated with the same panel to facilitate operator operation and real-time monitoring Fully automatic operation design, engine start, light pole lift, hydraulic foot Recycling, lighting switches are all independent and automatic control, easy and quick operation.
5. safe and reliable, easy to transport: hydraulic foot expansion area, strong support, coupled with advanced integrated machine weight design, has good wind resistance, to ensure reliable work under the 8 gale.
6. A variety of mobile methods, the trailer system can be used, but also the use of forklifts, cranes to move and transport.
| | |
| --- | --- |
| | |
| | |
| | |
| | |
| | |
| | |
| | |
| Continuous working time (hour) | |
| | |
| | |
| | |
| Mast Lighting & Extension | |
| | |
| | |
| | |
| | |
| | |
| | |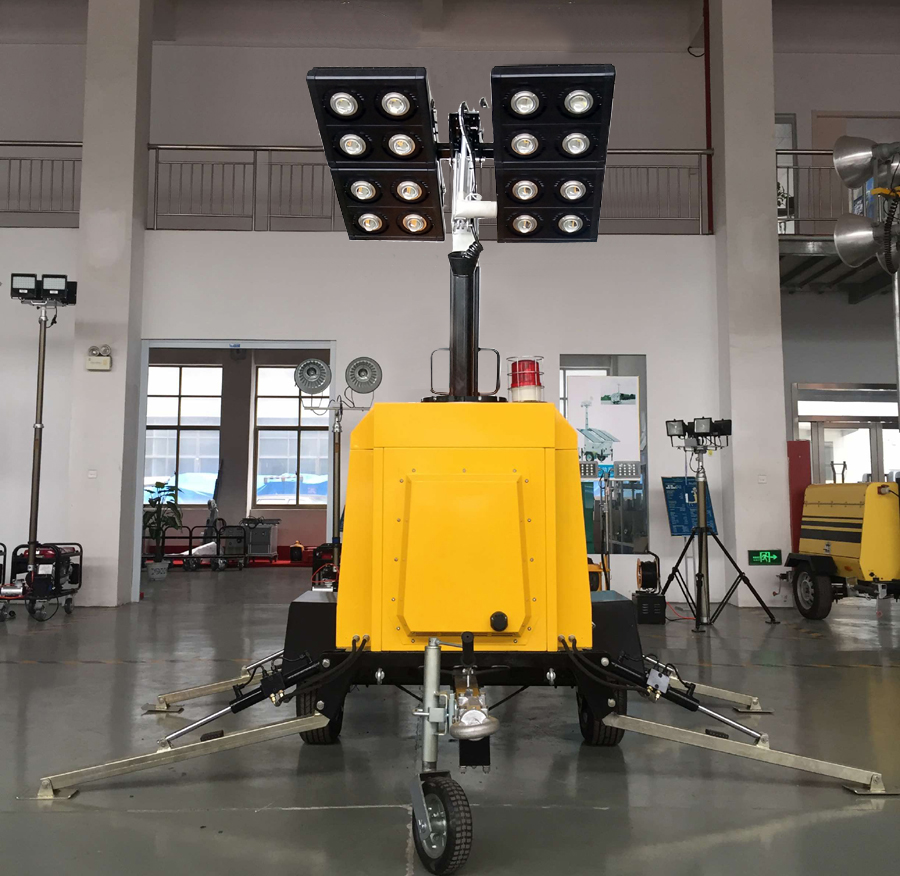 Factory