ENWEI MO-5658 Mobile Light Tower
Scope: Railway, electricity, public security, oil, metallurgy, petrochemical enterprises at night operations, freight yard loading and unloading, patrol maintenance, accident repair and other high-brightness lighting and other work to provide mobile lighting.
Efficient and energy-saving: The complete set of lamps uses 4 1000W high luminous efficiency metal halide lamps, high brightness, electricity province, irradiation area up to 1500 square meters.

Safe and reliable: The surface of the anodic corrosion treatment mast, reasonable structure. Mast raised to withstand 7 winds.
Easy to operate: The manual lifting system with stable performance can be raised to any height (up to 9 meters), and the positioning is stable and reliable; with special control box, easy to operate; with electric walking device, can be directly on the road or Construction site mobile walking.

Ancillary functions: The use of high-power generator sets, in addition to providing lighting, but also as other electrical equipment to provide external power supply.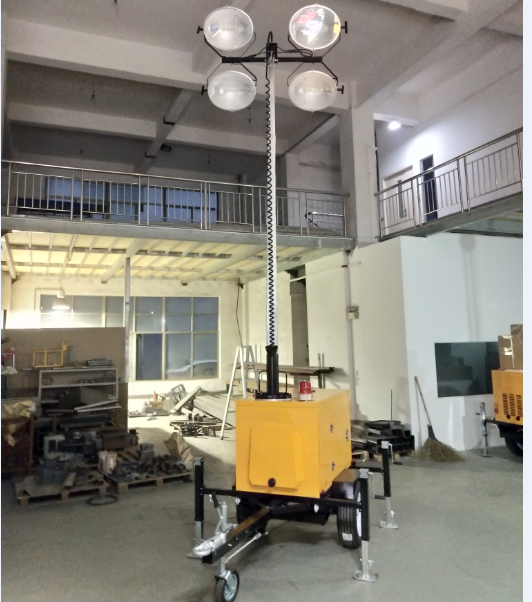 Model

MO-5658

Manufacturer

ENWEI

Generator

Kubota diesel oil

Type

Water cooled

Generator Types

Single-phase

Rated Power

6KVA

Rated Voltage

220V

Continuous working time (hour)

25hours

Oil Capability

5.1L

Power*lamp

1000W*4

Excitation mode

Capacitor exciter

Elevating height

9m

Light angle turning

Manual operation

Braking System

Parking braking/Driving braking

Luminous Efficiency

80 Lumens/ Watt

Luminous flux

4*99000LM

Lamp

Metal halide lamp

Net weight(kg)

840

kg
Factory: