PCH Type of Crusher is suited for breaking all kinds of brittle material, with maximum anti-pressure strength no more than 100Mpa and surface moisture content within 15%, like coke coal, coal, shale, slag and loose limestone etc,. It is widely used in the fields of building material, metallurgy, chemistry, coal mines, having good features of large breaking ratio, capacity and even grain size.
The crusher is mainly composed of rotor part, machine body and adjusting mechanism etc. The rotor is directly driven by motor via fluid coupling. The rotor part mainly includes main shaft, end disk, hammer disk, hammer bar, and ring hammer etc. Ring hammer is suspended on the hammer bar, and hammer bar is installed on the end disk and hammer disk, end disk and hammer disk are fixed on the main shaft with flat key and round nut.
The machine body mainly includes upper and lower body shells, breaking plate, bar screen, support for bar screen, lining plate etc. Breaking plate and bar screen are installed on the support for bar screen, and one end of support for bar screen is suspended on the bearing housing at two sides of upper body shell with a shaft, while the other end is connected to adjusting mechanism with a joint plate. Lining plates are installed on the internal wall at two sides of body shells to protect shell from being frayed.
When working, once material entering into crusher, firstly, the material is broken under impact force with high-speed rotating beater, and then, with kinetic energy from beater, the material is thrown to the breaking plate at a high speed, and so second breaking is obtained. After then, final material is discharged out of crusher through opening of bar screen, while material which cannot be broken will enter into metal collector and shall be removed regularly.
Final grain size can be adjusted by changing screen plate with different opening. Generally, the final grain size of bar screen is 30 mm, any special requirements about grain size or whether pass-by hopper needed should be noted when ordering.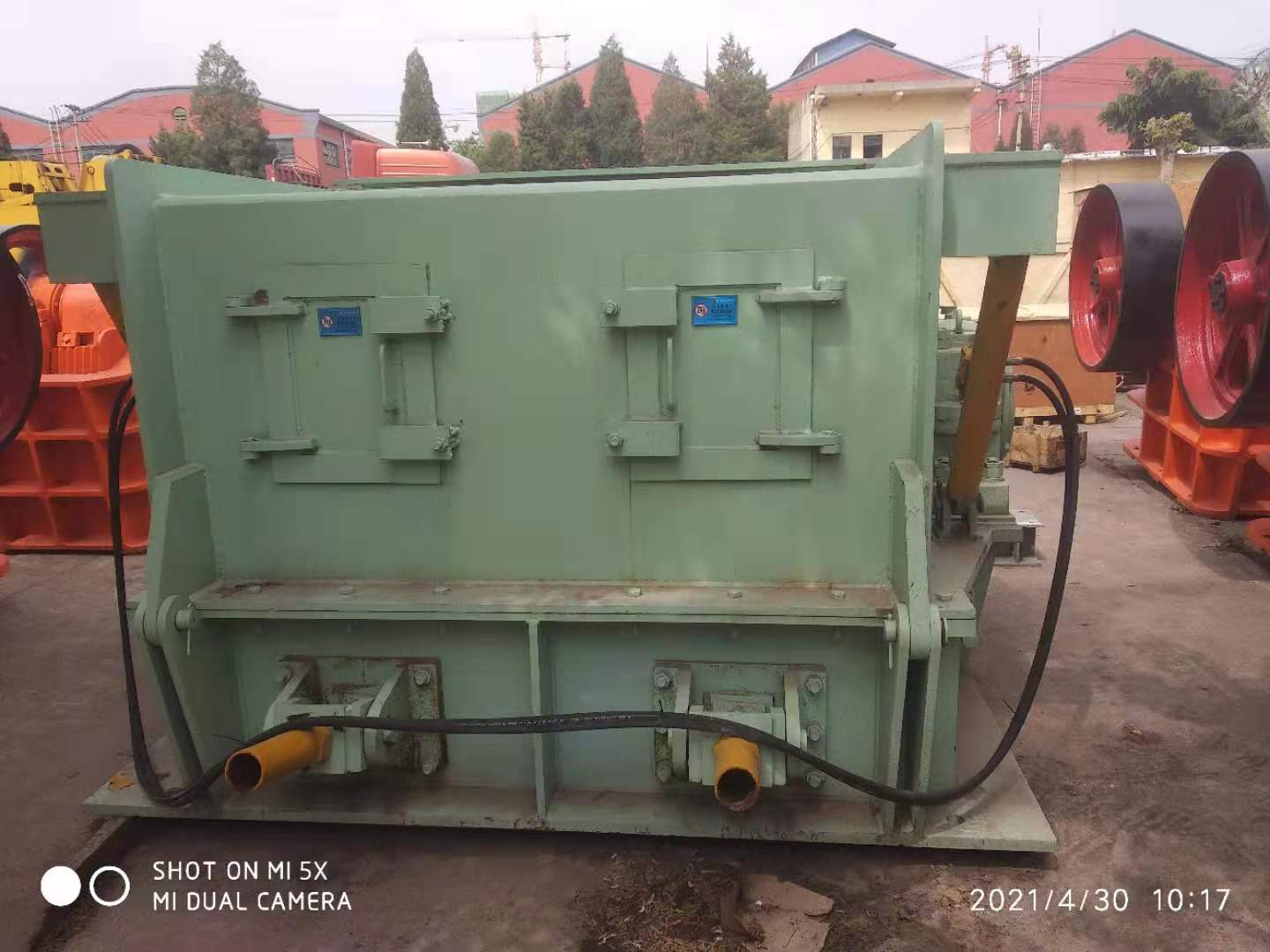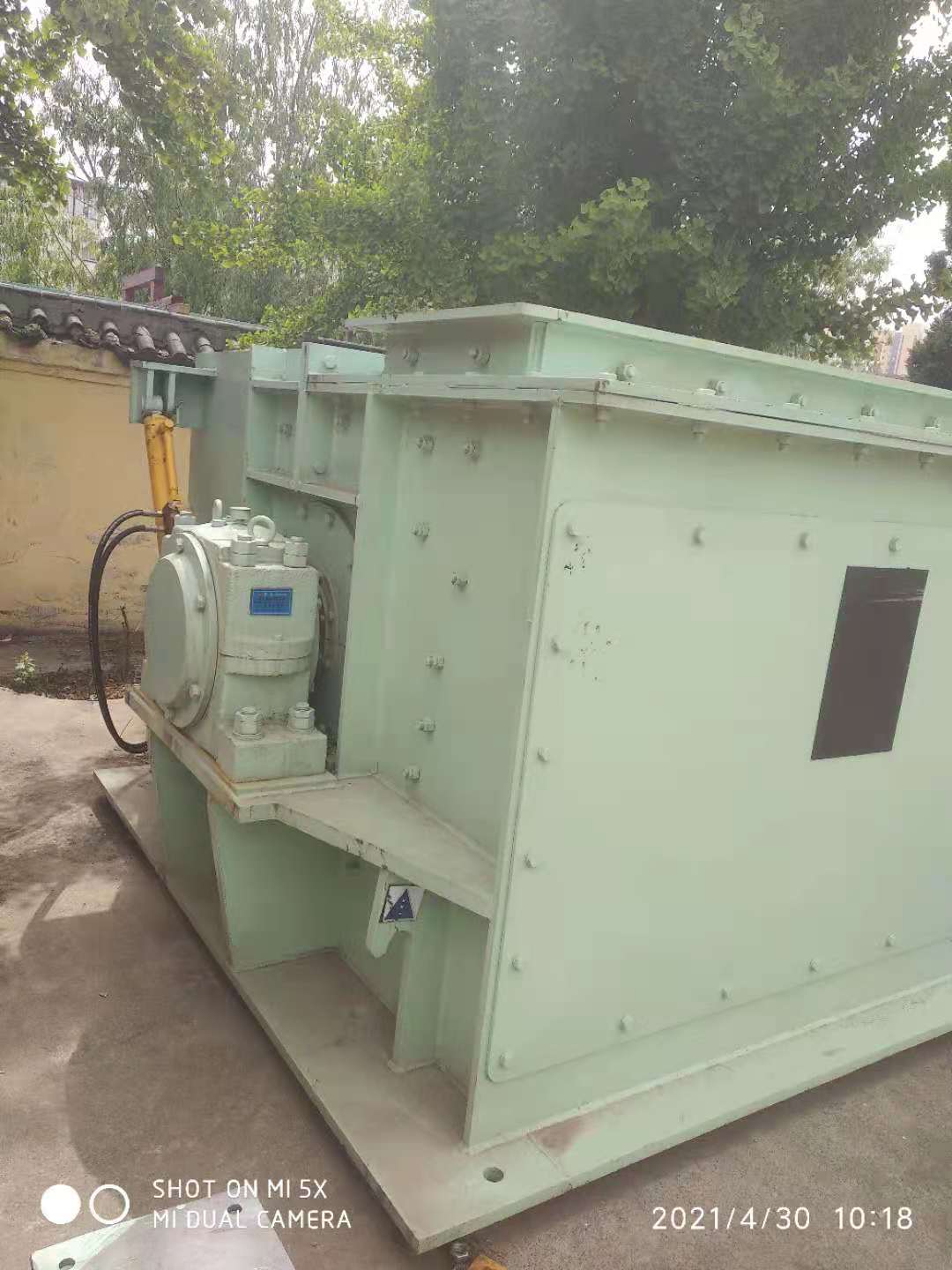 Type

Rotor

Rotational speed

r/min

Max.
Feeding
grain size
mm

Motor type

weight

(excluding motor)

dimension (L*W*H)

400*200

960

200

≤30

8-12

Y132M-6

5.5

400*400

970

200

≤30

16-25

Y160L-6

11

600*400

970

200

≤30

22-33

Y180L-6

18.5

600*600

980

200

≤30

30-60

Y225M-6

30

800*800

740

200

≤30

75-105

Y280M-8

45

3600 kg

2850*1650*1200

mm

800*800

740

200

40-150

Y280M-8

45

4100 kg

2850*1650*1200

mm


1000*1000

740

300

6100 kg

3550*2000*1500

mm

1000*1600

740

300

≤30

90-350

8560 kg

5036*2000*2160

mm

1200*1600

740

400

≤30

600

YKK450-8

355

15000kg

5750*2500*2200

mm

1200*1200

740

400

≤30

400

YKK400-8

220

13250 kg

4995*2550*1950

mm

1200*1600

740

400

≤30

600

YKK450-8

355

15000 kg

5750*2500*2200

mm

1200*2100

740

400

≤30

800

YKK500-8

450

24000 kg

6000*2500*2210

mm