HT155W is new generation full hydraulic wheel excavator designed and produced by Jining ENWEI Intelligent Technology Co., Ltd. It adopts Cummins engine with high power and low fuel consumption, which guarantees the strong power and power reserve; the accurate matching of high efficiency system and bridge-case ensures random switch of working state and running state; equipped with imported hydraulic components, hydraulic system and engine, provide accurate flow, improve operation efficiency. The hydraulic system has the characteristics of high reliability, high performance-price ratio, safety, green, comfort and convenient operation, in the meantime, we can provide a variety of optional special configuration, which can meet the requirement of different countries and customers.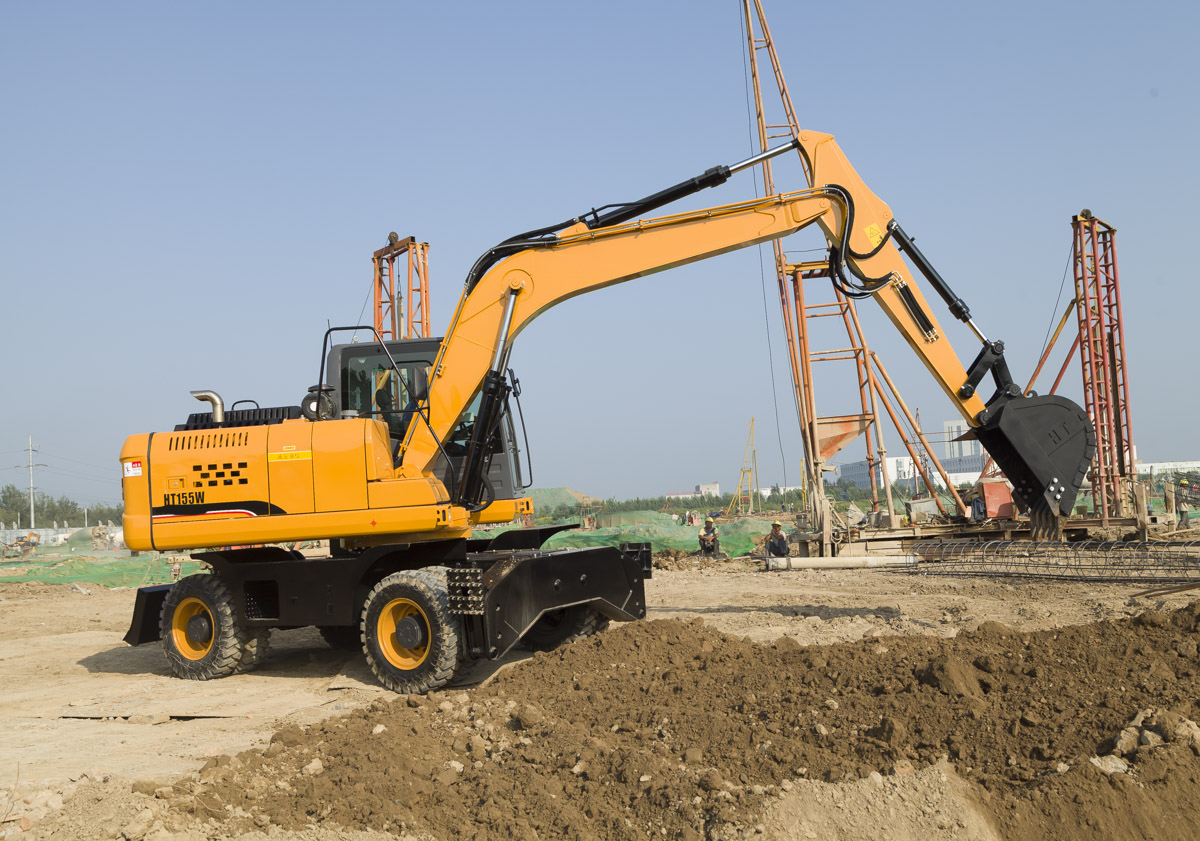 Shipping Length(mm)

7760

Shipping Height(mm)

3120

Overall Width(mm)

2700

Tail Swing Radius(mm)

2400

Wheelbase(mm)

2670

Wheel Tread(mm)

1970

Tyre Type

9.00-20

7340Max dig Height(mm)

9100

Max dump Height(mm)

6650

Max dig Depth(mm)

5040

Max dig Radius(mm)

8120

Engine

Cummins 92KW/2000rpm

Hydraulic System pressure

32Mpa

Hydraulic System flow

130*2L/min

Bucket Volume(m3)

0.6

Bucket digging force(KN)

85

Arm digging force(KN)

53

Rotation Speed(r/min)

13-14

Travel Speed(km/h)

30

Approximate Weight(kg)

15450
Advantage:
Comfort: Spacious and comfortable cab, providing excellent all-round vision.
New type suspension seat conforms ergonomics, improve driver's operation comfort.
Intelligence: Adopt smart driving computer, with big data analysis and storage function, timely warning prompt.
Configuration: National II standard Cummins engine, adopts new technology of low fuel consumption and strong power, accurate
matching of original imported main hydraulic system and engine, provide accurate flow, improve operation efficiency.
Kinetic energy: All the time four wheels drive, with high and low speed gears, high speed running and quick transfer.
High drive power, agile escape ability, strong cross-country power.